Palladian Marketing's expertise lies in marketing and public relations through quantitative and qualitative analysis, strategy, tactics and all-inclusive implementation. Palladian Marketing functions as the organizational and operational hub for all six Palladian entities (except for The Palladian Group – Public Affairs where state ethics laws dictate).
Palladian Digital builds complex systems, processes and devices that integrate data. Our objective is to position the latest innovative technologies. Digital spans the spectrum from website design/build to research and development (R&D) across a broad spectrum of information technology paradigms.
Palladian Public Affairs team gives clients access to insights that can only be obtained through years of work in the legislative and executive branches. Working as embedded members of The Palladian Group, TPG-PA infuses those insights into strategic planning and masterful execution to meet client goals and objectives across the public sector.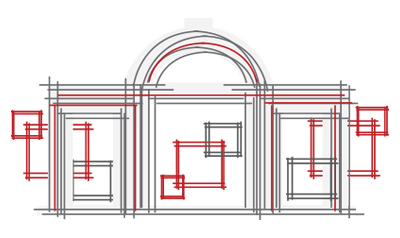 Palladian Development creates unique fundraising campaigns. Our fundraising process involves goal evaluation, development of the organization's case for support, creation of campaign plans, cultivating leaders and prospects and the coordination of efforts through the completion of the campaign. Since its inception, The Palladian Group has worked with the not-for-profit and for-profit sectors in the fundraising capacity and through many years of service, the Development focus grew into an expertise with Foundations with special emphasis on branding and re-positioning.
Palladian Productions was born from necessity. After years of outsourcing the filming of commercials, documentaries and simple website vignettes, The Palladian Group formed a production company that serves clients through all stages including concept development, casting, shooting, editing and screening.
Palladian Publication communicates through print materials – from collateral pieces and annual reports to a glossy magazine. Its cornerstone is ELYSIAN, an elegant quarterly magazine with intriguing and thought provoking content that is distributed regionally to a women-centric audience.
Founded in 1999 by Chief Executive Officer Karen Floyd, The Palladian Group is proud to be a one-stop shop for clients, providing traditional marketing services, digital development, digital advertising, film production and public relations.
As a company, and as a team, we routinely work on projects that we feel will benefit the community – both in professional and volunteer capacities. By partnering with TPG, you are assured of working with a diverse, experienced group of professionals. From a former attorney to an expert in digital marketing and analytics as well as an actor with national credits to his name, The Palladian Group is a fun, creative and results-driven team that looks forward to partnering with your organization.