We apply years of experience and our unique skill set to create strategies that meet client goals. To accomplish this, we offer a broad range of capabilities that we tap into for every client.
Palladian Marketing's expertise lies in marketing and public relations through quantitative and qualitative analysis, strategy, tactics and all-inclusive implementation. Palladian Marketing functions as the organizational and operational hub for all six Palladian entities (except for The Palladian Group – Public Affairs where state ethics laws dictate).
Palladian Digital builds complex systems, processes and devices that integrate data. Our objective is to position the latest innovative technologies. Digital spans the spectrum from website design/build to research and development (R&D) across a broad spectrum of information technology paradigms.
The Palladian Group – Public Affairs offers clients the public affairs savvy that can only be obtained through years of work in the Legislative and Executive branches. Working as embedded members of The Palladian Group, TPG-PA ensures each of those efforts is consistent with the client's external messaging plan and the unique (and often delicate) political, policy, fiscal, demographic, geographic, or other sensitivities of each public sector stakeholder group.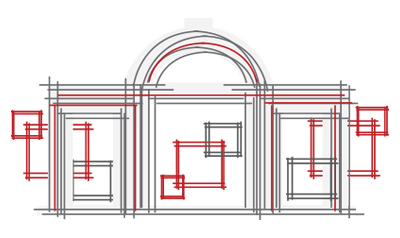 Palladian Development creates one-of-a kind fundraising campaigns. Our fundraising process involves goal evaluation, development of the organization's case for support, creation of campaign plans, cultivating leaders and prospects and the coordination of efforts through the completion of the campaign. Since its inception, The Palladian Group has worked with the not-for-profit and for-profit sectors in the fundraising capacity and through many years of service, the Development focus grew into an expertise with Foundations with special emphasis on branding and re-positioning.
Palladian Productions was born from necessity. After years of outsourcing the filming of commercials, documentaries and simple website vignettes, The Palladian Group formed a production company that serves clients through all stages including concept development, casting, shooting, editing and screening.
Palladian View is a digital platform dedicated to making the political process more relevant to the lives of everyday Americans. From National Events to a grassroots speaker series, Palladian View is dispelling the myth that there is no longer room for statesmen in politics.
Palladian Publication communicates through print materials – from collateral pieces and annual reports to a glossy magazine. Its cornerstone is ELYSIAN, an elegant quarterly magazine with intriguing and thought provoking content that is distributed regionally to a women-centric audience.
Few recognize the name of stonecutter, mason and later architect, Andrea Di Pietro della Gondola, born in 1508 in Renaissance Italy. Yet his soaring columns, visually pleasing symmetrical designs and tall arched windows have become one of the most notable and copied architectural styles and secured his place in history.
Andrea Palladio, was the name given him by his mentor who introduced him to the arts, science, literature, and architecture. Palladio, "the wise one," alluding to the Greek goddess of wisdom, Pallas Athena. When the opportunity presented itself, he studied classical architecture in Rome. We can see that influence in his Palladian style, which began to evolve around 1541. He became a well respected architect, his patrons some of the great names of the time, designing villas and churches for them. In addition to building and designing, he published many books, however, his "Four Books of Architecture," is best known and considered the most significant architectural pattern book ever printed. The great builders Christopher Wren and Inigo Jones built in the Palladian Style. Today, more than 300 of his original drawings are housed in the Royal Institute of British Architects.
Named for the Palladian architecture and windows of its home, The Palladian Group has its own unique sense of style. Keeping its designs balanced, innovations state of the art while remaining within budget and on schedule, The Palladian Group builds custom solutions distinctively tailored to each clients exceptional vision. Our statewide expertise, breadth of service and global footprint provides a unique skill set offered exclusively to each client.
The latest updates and insights from our agency.